It always fascinates me when I talk to people about their ski vacations and why they chose said town. From skiable acres to altitude to cost of living, there's a lot to compare.
The numbers are in-- and it's clear that people are still flocking to mountain towns to buy homes. Whether they are moving permanently or buying a second or third home, the mountain towns continue to be attractive. In the chart below you'll see how the resorts compare. Aspen continues to hold the top spot for highest average price while areas like Whitefish and Big Sky have the best value. Park City continues to see numbers inching up despite the "pause" we experienced in April 2022 when the interest rates skyrocketed and mortgage rates nearly doubled overnight.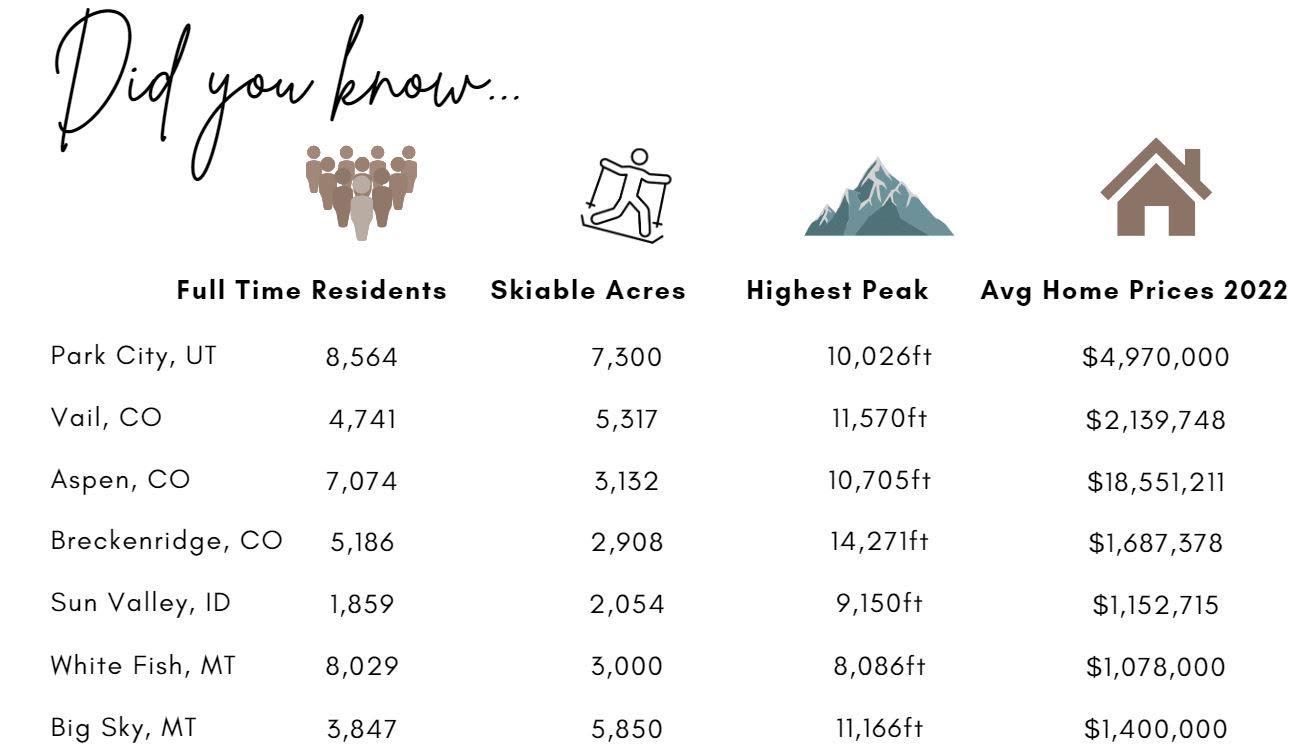 Because of the huge discrepancy in pricing, many people ask why does Aspen consistently hold the rank for most expensive Mountain town?
Location: Aspen is located in a picturesque and sought-after location in the Rocky Mountains, with access to world-class skiing, hiking, and outdoor activities. Its popularity as a destination for outdoor enthusiasts and the wealthy elite makes it a desirable place to live, which in turn drives up housing prices.

Limited land availability: Aspen is a small town with limited land available for new development, which creates a supply-demand imbalance that results in high real estate prices.

Luxury market: Aspen is known for its luxury real estate market, with high-end homes, condos, and apartments that cater to a wealthy clientele. These properties often come with high-end finishes, amenities, and services, which can justify the high price tags.

Strict zoning laws: Aspen has strict zoning laws that limit the density of new construction, which further limits the supply of available housing and contributes to high prices.